Ok guys I ordered my Ghost 385 on Wednesday morning and I recieved it Thursday around 3 P.M. Pretty fast shipping. I am going to give you guys a first impression review. Now with that being said remember this is only my second xbow and I have never hunted with one. So take what I say but remember my experience level with xbows. I do love shooting guns and I love bow huntings so it is only fitting that I am falling in love with xbows.
Now on to the meat and potatoes.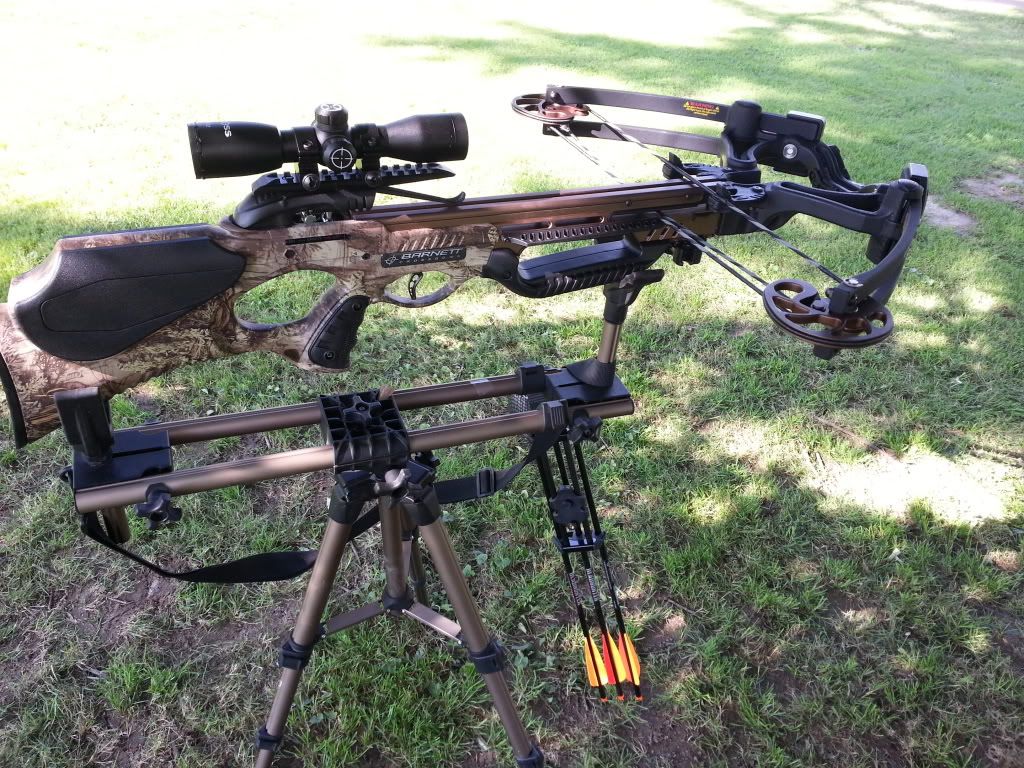 This thing is Awesome for starters. It came with the three bolts, quiver, scope, cocking ropes, wax and some replacement parts( I guess just in case??). It did not come with a sling however. That is fine though I will just buy a Claw for it. Now I paid $600.29 for this xbow and I recieved it within 24 hours. Which was pretty quick. I didnt expect it until next week. On the downside of that the box looked pretty ruff. I will get to that a little later.
Well when I went to put this thing together I notice that the hard ware that came with it said it was for a predator. It worked for it but lets just hope that was on purpose? Idk but if the Barnett rep sees this maybe he can chime in.
Well once I got the xbow put together I was like wow!! If looks could kill I would have a 12ptr down.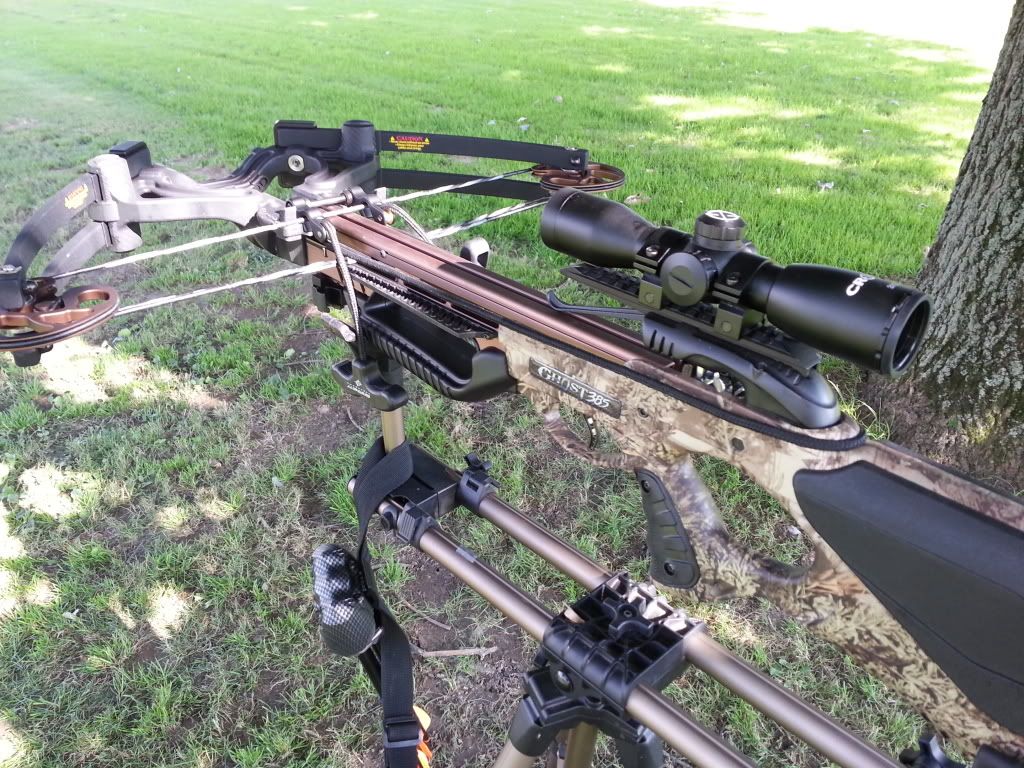 This thing is short, skinny, and light. Feels awesome in your hands. It has 185lb draw wheight but I couldnt tell. I am only 5'4 so this thing being as small as it is was nice. I could bend over cock it with no problem. Didnt come close to feeling like 185lbs. It was easy. Plus with this xbow the draw strings were different. They are more like the draw string on Barnetts hand crank. I dont know if this is a new string from Barnett but I liked it. Made it simple so you didnt have to make sure you lined them up right. It only had one place to go. Right inbetween the string stoppers. I really like that. I will probably use it on my Ghost 400 also. Look closely to the pic above and you can see it.
I did notice it had some minor damage to it though. Like I said it got to my house fast so I dont know if it was reckless. I had a scuff on the limbs. Minor but still a scuff(had pic wont load). Also the rail on the bottom was cracked. Small crack but still cracked. When you spend your hard earned money your not to fond of things like that.
Hard to see in the pic but there is like a hiar line crack in it. I might be being picky but for paying as much as I did it kind of makes you mad. Now I know I got a heck of a deal. I would put the name of the place on here but I dont know if that is allowed. It was a good deal and maybe that is why it was damaged like it is. Who knows. If the Barnett rep gets on here maybe he could shine some light on it. I dont know if Barnett sends out any products that might have a scratch or something and that is why they get away for selling it $300. below MSRP. I dont know be intresting to find out.
Next thing is the quiver. It looks cool. I just cant figure out how to get it on the xbow.
What I do like about it is how it has a clamp on the back of it. I like that because when I am shooting in the yard or woods I can clamp it to myself or my fieldpod.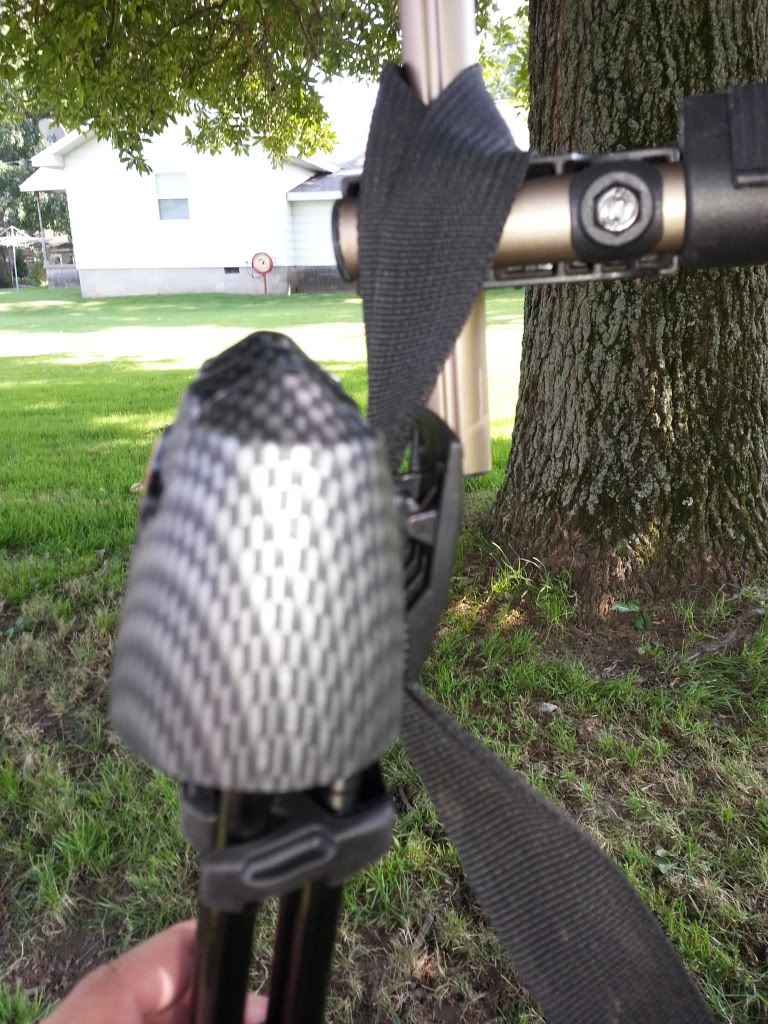 It has no room though to put anything else on the rail. The pic online looks like there is but there is not. It is pretty much taken up. So no lights. That kind of sucks but oh well.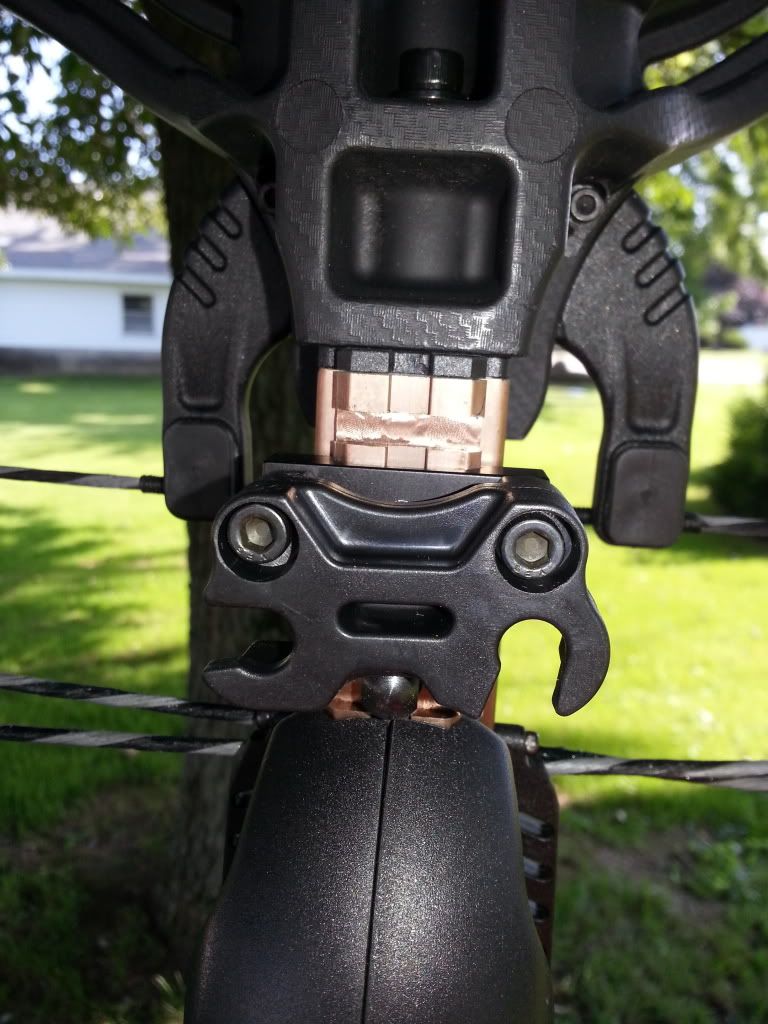 The scope is the same Cross scope that comes with all Barnetts. So nothing to report on that. When it came to shooting this thing it was AWESOME!! I could talk about this thing all day. I cant wait to get home so I can shoot it some more. It took me no time at all to zero it at 20yrds. I cant tell a difference in speed between it and my 400. Same penetration. Its fast. What is great about this xbow is I think Barnett hit all departments with this xbow. This thing would be good for the wife and kids. It is in no way a kid bow but it is small enough that any 12 year old could handle it(trust me I live in the body of a 12yrold). Just saying. This xbow is not heavy at all. It feels like you could go clear rooms with it. Which will be nice hunting because your arms should not get tired when your holding it hunting. This would be a great xbow for the wife too. It is just all around the perfect xbow. Its light, short and fast.
All in all this thing is Awesome. I am very impressed with this xbow from Barnett. Besides the little bit of damage it has it is awesome. It shoots real fast, it is light, and short. I love it. The new cocking strings make it real easy to cock. It shoots real smooth. The string stoppers help reduce the sound so it is not as loud as my 400. Oh yea did I mention how awesome it looks!! Awesome job Barnett!!!