Discussion Starter
·
#1
·
I posted this last fall on another forum that I post alot in and figured it would be nice to have in here to get some post up and info for new members to read.
I went out on a evening hunt last Thursday 11-08-07. Had some does working the field off to my right and some had moved in front of me. None never came in close enough to get a good shot. Then behind me I heard a bunch of leaves crunching and by the time I seen him he was about twenty feet behind me. Grabbed bow, turned on camera and it was all over in about thirty seconds! I have the footage on camera, but as we all know I am no good camera man. The Vortex did its job and the Tekan II's only let the deer go about fifty yards. Double lung and heart shoot! Some of the pics may not be good for the faint of heart! I also have a Camera mounted to the scope of my CB, some may have seen it before. So I was able to record it on DVD. It is short but sweet. The link below is to the video on YouTube. Then some pics of the deer after harvest. The next four pics are stills I was able to take from the camera. Could not catch arrow in flight since the deer was to close and the camera shakes to bad right at the shot, but you can see the arrow opening in deer before the deer flinches and then the deer starts to move his head and tail in the third still pic. The fourth still pic is cool since you can see how much he hunches up, head over heals! The last pic is how I have camera mounted on the CB. I know this was not taken with traditional, but thought some of you guys may enjoy.
http://www.youtube.com/watch?v=FII94w8ENG8
Note to Admin. This is a new site and not sure of the "unspoken" rules. If any of these pics are not what you desire to have on your site please feel free to edit this post. Some sites worry about what the non hunting community thinks, and some do not.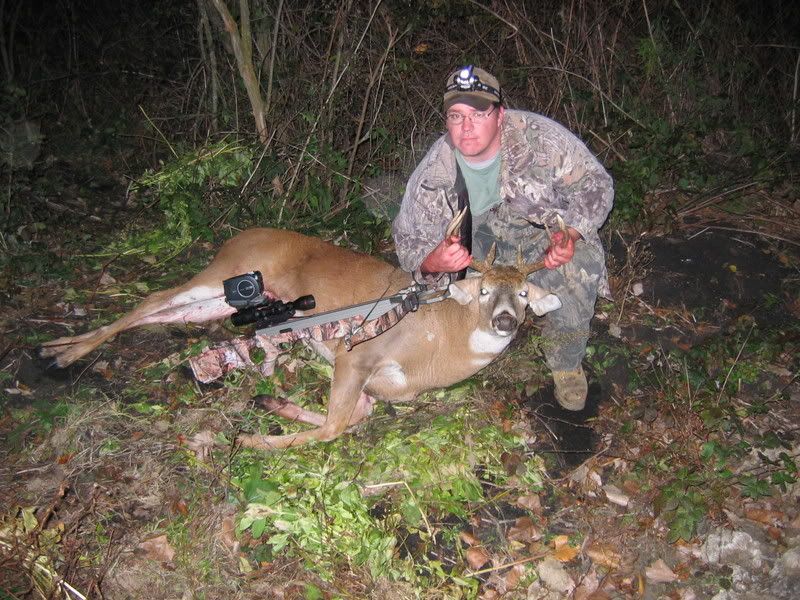 Sensitive content, not recommended for those under 18
Show Content