Discussion Starter
·
#1
·




How to build a great target backstop - Part One



I want to post this as an idea for anyone to use in constructing a portable easy to haul, set up, and use target backstop that can be used for bows, crossbows, small caliber firearms, and even to throw baseballs at if you like..

I built my own target backstop out of old materials I salvaged from two old 4 foot by 8 foot signs that were made from really good marine grade plywood, and added a few touches in the way of framing. I also added two side wheels, and a wheel in the front that can turn to make steering easier. I plan to replace all of the wheels with larger ones to make it much easier to navigate grass and soft sand and dirt. I am also considering finding a salvaged lawnmower trailer frame to mount it on. This is fairly heavy and the type of wheel you choose should be based on how much and where you plan to haul or move it.

The posts on the back act as stands to hold it level to work on when laid down. This is good for doing any maintenance to the padded interior. I stapled some rubber pads to the ends of the posts, so it does not mar any garage floor I happen to work on this on.

To do the interior I used a lot of foam padding for my first layer, then a layer of a sort of packing blanket. The next layer was a heavy duty corrugated paper board that was inside of a large box spring. I carefully removed it from the box spring and then carefully removed all of the remaining staples.

I went to Babcock's Furniture Store, and they let me have a traded in fairly new King Size pillow top style mattress for free. I carefully cut the material away from the inner springs and salvaged all of the soft material. I used this as the final layers for the inside padding of the backstop.

I built a 1 inch by 2 inch frame to fit the interior of the backstop allowing for the thickness of the layer of mattress material stapled to it. I stapled it from the back, without cutting it to size, and duct taped the remaining 12 or so inches of material flat against the back of the material.

I then screwed hooks into a wooden plate on the interior top to hang my bag target from.

When all of the interior is in place, it should produce a nicely firm but soft thick pad to catch any arrows or bolts that miss the target, and does so without the loss or damage to any arrow or bolt.

I first filled all cracks inside and out with Elastomeric Caulk and then painted the entire exterior with Acrylic Latex Exterior paint. That makes it virtually weather proof. I plan on adding some lockable doors to the front that will latch open when in use. I used a thinned down with water coat to color the old mattress material to match the exterior.

This backstop can be adapted to use as a rifle backstop or for pistols. I would imagine that using 2 BYs of at least 4 inches thick bolted together in a square of about 18 by 18 inches should easily stop a .22 or up to maybe a .270 round. I would also suggest putting a sheet of diamond plate steel behind the 2 BYs. The deeper you build this, the better it will work to stop ricochets. For a firearm only backstop, maybe a vertical box of sand at least 18 inches thick inside of a 2 by 6 inch bolted together frame and backed by a full size sheet of diamond plate steel would be advisable. Wherever a steel back plate is used it should be angled so any ricochets will go down into the ground in front of the target area.

The archery version of this can be used for high powered air rifle practice too. This makes a nice backstop for use in sighting in scopes and conventional sights too.

But the main thing it does is make it safe for practicing shooting IF it is built logically with safety in mind.

Here are some pictures of what I have so far. I will add any new ones of upgrades or additions in replies.

The interior measurements are approximately as follows:

Height = 55 inches
Width = 47 inches
Depth at bottom (pad) = 24 inches
Depth at top (pad) = 10 inches

I have not weighed it.

If you decide to build something like this, remember that this is only a suggestion on how to do it.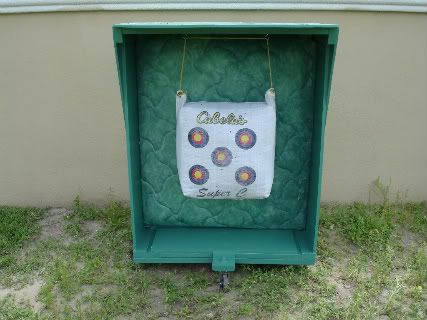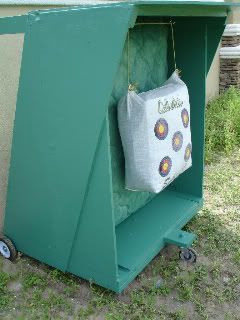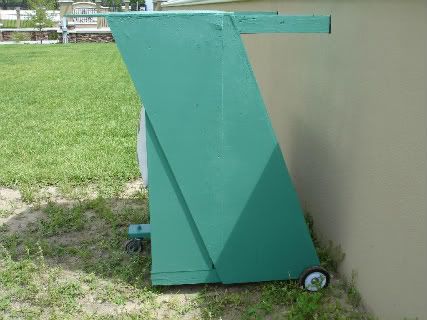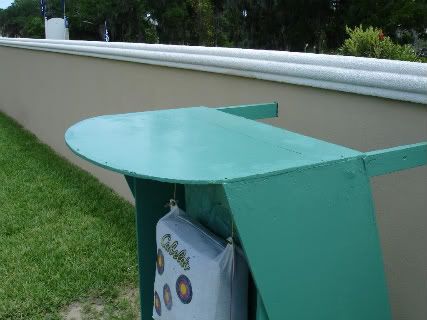 More Pictures in the first REPLY